Natural Fiber Rugs Manufacturers in India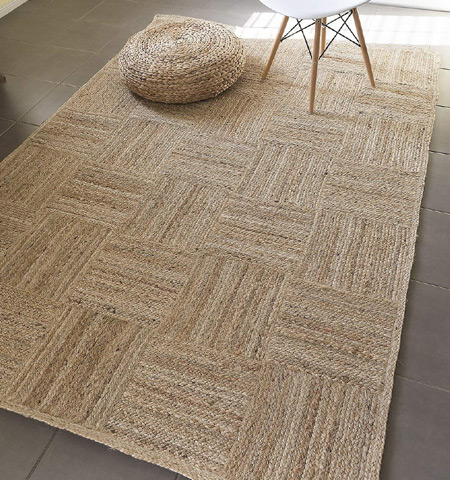 Natural Fiber Rugs
---
Global Floor Furnishers is a Leading Natural Fiber Rugs manufacturing company in India. We are the Best Quality Natural Fiber Rugs Exporter, Importer & Supplier in India. Choose our wide variety of colors, patterns, sizes, and a great selection of premium Natural Fiber Rugs in India.
---
Natural Fiber Rugs Supplying in India
Natural Fiber Rugs Manufacturers in India, Natural Fiber Rugs Exporter & Importer in India, Natural Fiber Rugs Suppliers in India, Natural Fiber Rugs in India. Natural rugs have been around for centuries, and they are becoming more and more popular. These being environments friendly people are turning to natural rugs. Natural materials, like wool and cotton, are biodegradable, so they don't take up space in landfills and they are also affordable. These rugs are custom-made to fit the specific needs of each individual which means that you can be sure that your rug will look and feel exactly the way you.

Benefits of Natural rugs
Natural rugs are also very durable. They can last for years with proper care, and they are great for high-traffic areas. Natural rugs are also hypoallergenic, making them a good choice for homes with allergies.

Types of Natural Rugs
There are different varieties of natural rugs, The ones we make and provide are in wool, silk, hemp, sisal, water reed, abaca, banana, jute, palm, hyacinth, raffia, okra (Ladies finger), seagrass, Keshab, Abaca, and such other yarn and fibers.

Custom Natural rugs and carpets
There are many reasons to choose a custom natural carpet for your home. Here are just a few:
1. You can choose the perfect color and style to match your decor.
2. Natural fibers are environmentally friendly and sustainable.
3. Carpets made from natural fibers are durable and easy to care for.
4. Natural carpets are hypoallergenic, making them ideal for homes with allergies or sensitivities.
5. They add a touch of luxury and comfort to any space.

If you're looking for a carpet that is beautiful, sustainable, and easy to care for, a custom natural carpet is a great option.

If you're in the market for a new rug, you might be considering a natural rug. These rugs are made from materials like wool, cotton, jute, and sisal, and they're a great choice for eco-conscious homeowners.

There are a few things to keep in mind when shopping for a natural rug. First, be aware that these rugs can be more expensive than synthetic options. That's because natural fibers are more expensive to source and process.

Second, natural rugs are prone to shedding. This is especially true of wool rugs but these go off in due course of time.

Finally, natural rugs need to be vacuumed and cleaned more frequently than synthetic rugs. That's because dirt and dust can get trapped in the fibers, leading to stains and odors.

If you're willing to put in a little extra work, natural rugs can be a beautiful and sustainable addition to your home.

CONTACT for natural rugs
There are many benefits to using natural rugs in your home. For one, they are eco-friendly and sustainable. Natural rugs are made from materials like wool, jute, sisal, and bamboo. These materials are all biodegradable, so you can feel good knowing that your rug won't end up in a landfill.

We have a wide variety of rugs made from natural materials, and we're sure you'll find the perfect one for your home.